I became a Warrior for my country when I was drafted for National Service in 1968, not a regular soldier, but 'after birth' as we Nashos were affectionately called. After recruit and corps training in Singleton, I was posted to the 8th Battalion of the Royal Australian Regiment, D Company, 10 Platoon, 3 Section, and after more intense training at Canungra and Shoalwater, we set off to Vietnam aboard the Aircraft Carrier The Sydney.
Our section numbered eight persons, consisting of three Regulars and five Nashos, the youngest 19 years, the oldest 22–all well trained and very fit Diggers.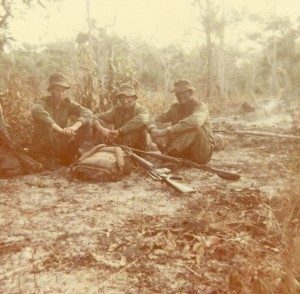 We arrived in Vietnam in November 1969 and went out on operation in December. Our first assault on the enemy bunker system on the 22nd of that month claimed the life of my gunner and wounded a Rifleman in our section. In this action our section commander was awarded a Mention in Despatches. Many more operations were carried out by the Battalion in which we were involved. One very sad day for the Battalion was on the 28th of February, 1970, in a battle in the Long Hais. Our Platoon was advancing when a soldier stepped on a mine killing eight soldiers. The Battalion was awarded the Republic of Vietnam Gallantry Cross with added Gold Leaf for the gallantry displayed under enemy fire, for the time it served in Vietnam.
Since returning home, the section has dwindled to five. The Platoon, which numbered 31, now numbers 20. Eight have passed away from cancer, 3 from suicide.
So what does ANZAC Day mean to me? It finally means that I can march proud with my fellow veterans.
For a number of years I did not march. Every day since my service I have shed a tear for the enemy who fell in brave actions against us. I have shed a tear every time I hear of one of our young warriors who are killed or maimed in service for US. I shed a tear for my brothers who served in Vietnam.
On ANZAC Day, I will attend dawn service to pay homage to those brave heroes of Gallipoli and all who have served or who are serving.
Then after the march, I will share a drink with mates and toast the bravest of us all, the FALLEN. Lest we forget!