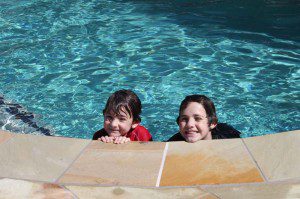 Father's Day is fast approaching, and already, with this warm spurt we're having, families are breaking in their backyard swimming pools here in Brisbane and Queensland's balmy Southeast. Here are a few tips to help you prepare for the pool season and some ideas for a Father's Day bash by the pool.
1. Make sure your pool water has been tested recently.
It might be tempting to neglect pool water testing over winter, but if you want your inground pool to be in tip top shape for summer, it's important to keep up regular pool maintenance. The weather can greatly affect water quality. Don't be caught unawares.
2. Neaten up the pool garden.
Weeds don't grow quite as fast during the winter months here in Brisbane, but with the warmer weather, it won't be long before the nut grass and other noxious weeds are turning your pristine pool garden into a weed haven. If you get stuck into the garden now, before the really hot weather starts, you'll have a better chance of keeping on top of the weeds, so you can spend more time relaxing around the pool and enjoying the view.
3. Check on the condition of your pool toys, goggles etc.
Kids are great at breaking and losing stuff, and before you know it, they'll be asking "where are my goggles, mum?"
Throw the broken and mouldy pool toys away (or fix them if you can) and make sure the goggles and swimmers are handy for those spontaneous swims. Stop by the pool shop and pick up some new toys for fun pool games to entice your kids off the computers and into the pool.
4. Now, get planning that Dad's Day pool party!
Make sure the BBQ is topped up with gas, the esky is full of suitable drinks and the pool chairs are clean and comfy so Dad can have a relaxing Father's Day by the family pool. Don't forget to check out our Father's Day Pinterest board for some gift and Father's Day pool-party inspiration.
What do you have planned for Father's Day?